When you think of St. Patrick's Day, you think of shamrocks and the colour green. What better way to celebrate this day than by experiencing it at illumi in Laval ? This year, illumi brings life to the colour green like never before in a worlds filled with fantasy and wonder.  As you stroll through illumi's 19 magical universes, try to find the most green structures to illuminate your next Instagram post !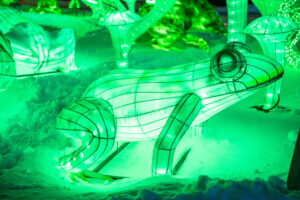 One of our new universes from the 4th edition: The Green Turn universe will not let you down with it's frogs, crocodiles, lizards and other green insects. Will you be able to capture a picture with these larger than life creatures before they run away?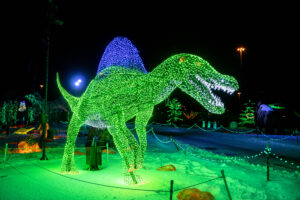 Do you hear them roar? Watch out for the green dinosaurs in the Jurassic Kingdom! Some people say they are extinct… but we sure did see 50 roaming around the illumi site !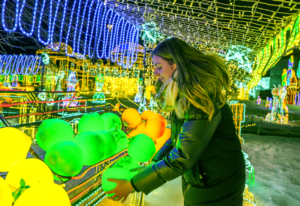 Apples that will shine through the night! Pick the greenest one!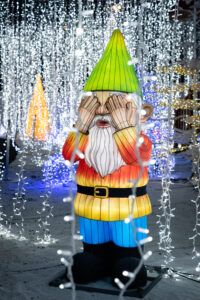 He put on his greenest hat for Saint Patrick Day! Will you be able to find him hidden in the Winter Wonderland?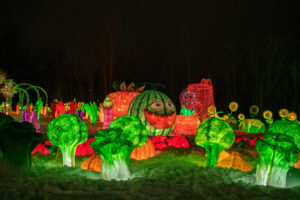 And of course, no celebration would be complete without food and beverages. This weekend, there will be an activity on the Laval site with our partner OASIS. Be sure to stop by the OASIS "A Matter of Taste" tunnel at the entrance to the Garden for Giants where you can sample Oasis products, enter a contest and receive discount coupons ! If you're looking for an adult beverage, continue your way to The illumi Tree of Lights where an illuminated bar is available.
illumi and ecoresponsibility
Illumi is green. illumi undertakes efforts to be a responsible business in terms of eco-responsibility. Among other things, illumi powers its light structures with hydroelectric energy and the use of LED technology, driven by very low power consumption, makes the project an extremely energy efficient event. For more examples and details visit our eco-responsibility page. environmental responsibility page.
Perhaps the most magical part of the event is simply the opportunity to get together with friends and family to celebrate the spirit of St. Patrick's Day. The special illumi weekend is sure to be a memorable and enchanting experience. So put on your greenest outfit and come join the festivities!