Love spring? You'll love the magical touches we've added for the new season.  The illumi lights will stay on until April 30th!  
So take off your heavy coats and grab some churros at the Food Truck while enjoying a captivating visit to the world's largest multimedia, sound and light adventure! Discovering our 19 magical universes with a light jacket and warmer temperatures will give a new dimension to the magic!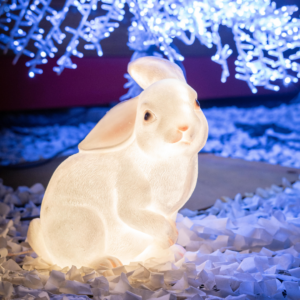 The addition of a thematic universe filled with special spring structures is sure to put you in a good mood and bring joy. Starting tonight, the thematic zone at the entrance will be filled with bunnies, luminous Easter eggs, as well as colorful trees and flowers! From apple trees to Japanese Cherry trees, glittering tulips and fresh bouquets, spring is here! Seasonal touches will also be illuminated along the way so you can take THE perfect picture for spring.  
 Tickets are available here!